Since the winter of 2014, Lawrence undergraduates have been adapting and performing short, satirical works from sixteenth and seventeenth-century Spain and Latin America. Entremeses–interludes originally performed between the acts of comedias–are presented in both English and Spanish.
For our inaugural performance, we chose Jerónimo de Cáncer y Velasco's, Juan Rana, muger (1676), a play about a mistreated wife who avenges her husband's abuse by convincing him that he's a woman with the help of their friends and neighbors and scaring him with the prospect of marriage.
To celebrate the 400th anniversary of the publication of Miguel de Cervantes's Ocho comedias y ocho entremeses (1615), we presented "El juez de los divorcios" ("The Divorce Court Judge")–a farce about dysfunctional marriages and corrupt court officials–on June 3, 2015.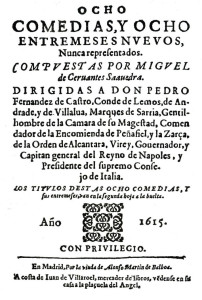 Our talented cast included Kevin Marin as the escribano, Adam McDonald as El juez and the old man, Sarah Tiano as El vejete and Mariana…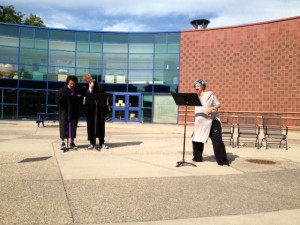 Evelyn Barash as Mariana and the porter…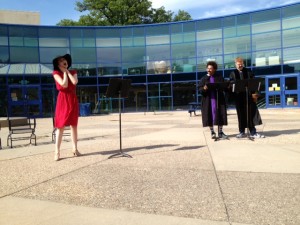 Sara Nordin as the soldado and doña Guiomar…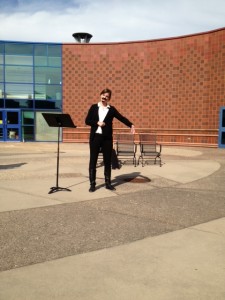 Yvonne Tessman as doña Guiomar and the soldier…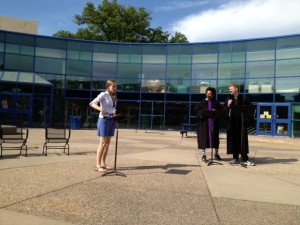 Kyle Labak as the cirujano, Hannah Ganzel as Minjaca, and Tony Harth as the judge…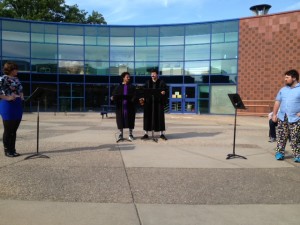 If you are interested in joining us for the 2015-16 season, please contact allanmATlawrence.edu
Past seasons: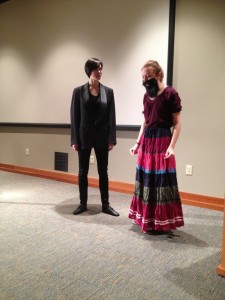 Madeline Bunke  and Hannah Jeruc (April 26, 2014).
Casts
Spanish

English

Casilda – Madeline

Casilda – Heather

Juan Rana – Hannah J.

Juan Rana – Abi

El Barbero – Portia

Barber – Portia

Un Herrador – Sara

Farrier – Sara

Un Vegete – Kevin

Old Man – Hannah G.

Novio – Tony

Suitor – Tony

Una Mujer – Heather

Woman – Madeline

Director – Nathan Eckstein
Cast & Crew Bios
• Madeline Bunke, '14, is a Theater Arts and English major with a Spanish minor who will be wearing a beard in the upcoming Main Stage show "B 'Srd Shrts."
• Abi Leville, '14, is a theatre arts major with minors in neuroscience and psychology from Iowa City, IA. She is very active in the theatre department and is a member of Lawrence Improv: The Optimistic Feral Children.
• Heather Jost, '14, is majoring in anthropology and flute performance with a minor in Spanish. Her vast acting experience is solely composed of her role as a birch tree in a sixth-grade environmental club play.
• Hannah Jeruc, '16, is majoring in history with a Spanish minor. She loves the outdoors and recently spent a week backpacking in Canyonlands National Park in Utah.
• Portia Turner, '15, is a Theatre and English major with a Spanish minor who also is a member of Optimistic Feral Children, the Lawrence improve team.
• Sara Johnson, '14, is majoring in Spanish and chemistry. She is strangely fixated on gender and crossdressing in golden age Spanish theater.
• Kevin Marin, '16, is an economics major. He was hit by a motorcycle while crossing the street in the Dominican Republic.
• Hannah Ganzel, '17, is majoring in Spanish and film. This will be her first time playing a man.
• Tony Harth, '17, is a theater major. He is interested in plays, especially those involving trickery.
•Nathan Eckstein, '14, is a theatre major from St. Paul MN. Previously at Lawrence Nathan has assistant directed "Shifts" as part of the Fred Gains student playwright series and his senior project "Courage: an evening of scenes." Nathan's original play "Technically Love" received its world premiere at Penumbra Theatre Co. in August and its regional premiere here at Lawrence where it received honors. Nathan is grateful for this opportunity to work with such a talented cast. ¡Muchas gracias a Madera y todos!
Entremés links: