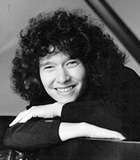 Pianist Catherine Kautsky has developed a multi-faceted career, receiving international attention as a performer, scholar, and pedagogue.  Following her New York debut, The New York Times called her "a pianist who can play Mozart and Schubert as though their sentiments and habits of speech coincided exactly with hers… She gave these pieces nuances that made them meaningful on a human everyday level." She has collaborated in performance with some of the world's leading musicians including Peter Oundjian, Kim Kashkashian, Lucy Shelton, Joseph Swensen, and John Sharp.
Ms. Kautsky has concertized throughout the United States and abroad as a recitalist, soloist with orchestra, and chamber musician, appearing in venues such as Alice Tully Hall and Carnegie Recital Hall in New York, Jordan Hall and the Gardner Museum in Boston, the Phillips Collection in Washington D.C., the Burgh House in London, and the Salle Cortot and Auditorium Saint Germain in Paris.  She has performed as a soloist with the St. Louis Symphony, Milwaukee Chamber Orchestra, and Wisconsin Chamber Orchestra, performed chamber music at the Aspen, Tanglewood, and Grand Teton summer music festivals, and appeared frequently on the radio in Chicago, New York, Washington D.C., St. Louis, Pittsburgh, and Madison.  Ms. Kautsky often speaks from the stage when she performs and is in constant demand as a lecture-recitalist. Recent appearances include the Portland Piano Festival, the Music Teachers National Association annual conference, and the National Conference for Keyboard Pedagogy, and sample topics include WWI: the Musical Wars," "A Letter from Prison: Frederic Rzewski's De Profundis for Speaking Pianist," "Schumann's Florestan and Eusbius: Reincarnations of the German Doppelgänger," "On the Trail of Chopin and George Sand," and "Clowns, Colonies, and Cakewalks: Playing Debussy while Looking at Paris."
Particularly interested in connecting music with social history and the other arts, Ms. Kautsky regularly plans and oversees highly anticipated multi-disciplinary events.  These have included a symposium entitled "Austrian Jews: Exile and the Holocaust," a "Debussy Carnival" to celebrate the composer's 150th birthday, and a large scale series of events entitled "A Tale of Three Cities," which contrasted Vienna, Paris, and New York in the early 20th century. Ms. Kautsky is also actively engaged in music outreach; in addition to undertaking outreach concerts herself, she held a grant for three years to take her piano studio touring to underserved populations, and is active in the national Music for Food organization.
A popular and well-known teacher, Ms. Kautsky's students have gone on to successful and multi-faceted careers in music. They have attended graduate schools including Juilliard, Eastman, New England Conservatory, and Peabody and have consistently won prizes in competitions, including MTNA, Schubert Club, and the Neale-Silva Competition of WI Public Radio.  For the past three summers, she has served on the faculty at the Interharmony International Music Festival in Arcidosso, Italy and her students have been featured on the festival's showcase concerts.
Ms. Kautsky recording of three pieces for piano and narrator – including Poulenc's beloved "L'Histoire de Babar" – was released by Vox Classics and was praised by Fanfare for its "rhythmic zest… sensitivity and strength"  Centaur has recently released her recording of the complete Debussy Preludes, and it too was greeted by enthusiastic reviews:  "intelligent and insightful Debussy artistry" that "brings out all the power, majesty, and mystery of Debussy's conception."  She is working on a companion book exploring the genesis of that music and Debussy's role in early 20th century Paris. Ms. Kautsky is the winner of the Passamaneck Competition, the C.D. Jackson Master Award at Tanglewood, the Association Amicale d'Ecole Normale de Musique de Paris Prize of the French Piano Institute in Paris, and the Creative Arts Award of the University of WI-Madison.
Ms. Kautsky is a Professor of Music and Chair of Keyboard Studies at Lawrence University and previously held the same position at the University of Wisconsin-Madison. She has given lectures and masterclasses throughout the world, most recently in China, Korea, Brazil, and South Africa. Her articles have been published in such journals as Clavier, American Music Teacher, and International Piano. Ms. Kautsky holds a bachelor's degree from the New England Conservatory, a master's degree from the Juilliard School, and a doctoral degree in performance from the State University of New York at Stony Brook, where she studied under Gilbert Kalish.